The Easiest Way To Burn Accurate Designs!

  Unique method of wood burning; write or draw a design

  New and Improved formula for faster, darker burning

  Odor-free and 100% non-toxic formula

The Wood Scorching Marker is a unique way to create a pyrography effect on the wood, card, and even paper.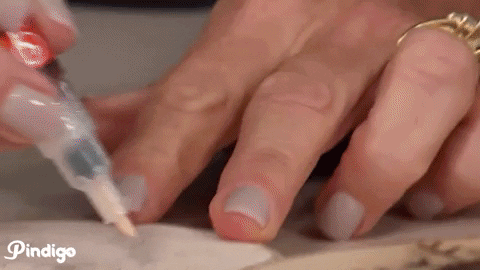 Use the Scorching Marker to write or draw your design as you would with a normal pen. Our patent-pending ink reacts with the wood when heated. Once completed, go over the area with a hot air gun. When the temperature reaches 190°C, the design will magically begin to burn into the wood. Applying more heat further darkens the design. (It is possible to use an oven set at 190°C to achieve the desired effect.)
Using the Scorching Marker allows you to exercise your creativity without the need for a high-temperature pyrography iron. The improved formula allows you to achieve faster and darker designs. Whilst the pigment adjustment allows you to achieve precise designs.


Scorching Marker works on most types of wood; light-colored woods give better contrast. For best results, sand the surface down to 220 grit. Applying a light stain or oil prior to using the Scorch Marker will help achieve clean, crisp lines and prevent bleeding, or you can use a vinyl template. 
Scorching Marker: an odor-free and non-toxic chemical wood-burning pen.
Key Features
unique method of wood burning; write or draw a design
Improved formula for faster, darker burning
Use a hot air gun to burn the design into the wood