Measure Once, Cut Once, Save Time.
Introducing the six-sided Multilateral Measuring tool. This tool is dedicated and designed to make any DIY project easier. You can fold it at any angle multiple times, meaning you can easily mark out and cut your material regardless of the shape.
Multi-Angle Mega Ruler
The ultimate 2-in-1 measuring and tile positioning tool. Our universal angle ruler comes with 6 metal knobs connecting 6 different pieces that all fold freely. Simply adjust the pieces to fit or create the shape you want, making any long and awkward measurements faster, easier, and more accurate.
Precise Measuring and Positioning: 
Use the knobs to lock the ruler into countless different shapes, patterns, and templates to copy the imprint and draw the perfect angles. Multi-tools are an essential staple for any professional or handyman, and this one is as good as it gets. Accurate angle measurements aren't just possible, they're easy.
Wide Application In Daily Life
Easily duplicate complex shapes in specific positions. Suitable for all different kinds of projects such as woodworking, flooring, tiling, glasswork, etc. It's the perfect measuring instrument for any contractor or DIYer.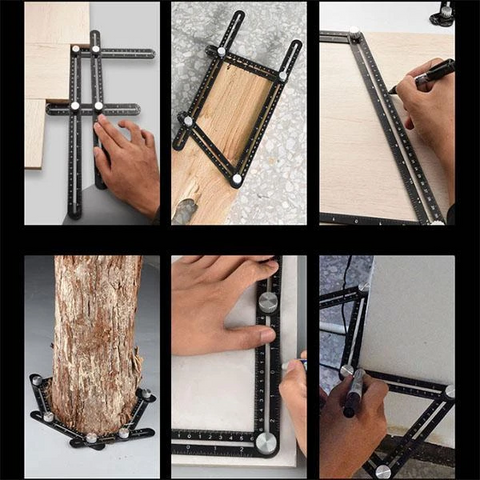 Every ruler we create undergoes strict quality inspection ensuring an accurate scale and perfect craftsmanship every time. We care about every detail of the product, it is a must-have for any toolbox!