Sew On The Go!


Quick patch job? Turning that old white tee into a crop top?
We got you.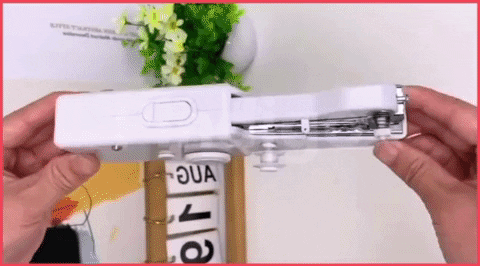 Handheld Sewing Machine
takes the power and quality of a traditional machine and puts it in the palm of your hand.
Don't bend and twist around your table
trying to get the angle and precision for that perfect stitch ever again, the handheld design
makes it easy to have control while sewing.
Easy & Safe To Use
Portable, Sew On The Go
Quiet, Low Noise Design
Battery Operated
Sew Faster, Get Hard To Reach Angles

Allows you to sew the toughest fabrics like denim, but is gentle on delicate fabrics like silk.

Available in pink, white, and black! (Yes, mmm, Neapolitan ice cream)




Add Our 70 Piece Needle & Thread Kit To Get Started

Including scissors, threading tools, pins, buttons and 14 different colors of thread.




How To Use



Specifications

Color: White
Material: Plastic
4 x AA Battery Operated (Not Included)
Size: 21cmx8cmx3.4cm

Package Includes

1 x Handheld Sewing Machine
1 x Spindle
1 x Needle Threader
2 x Extra Needles
3 x Extra Bobbins With Thread
1 x English User Manual
1 x Package Box