Roasting and grilling Chicken legs and wings have never been so convenient until now!
Simply hang the drumsticks on the rack and place them into the oven or on the BBQ grill. Like never before our Chicken Wing Grill Rack
allows you to cook them evenly all at one time with no more charred ruined meat.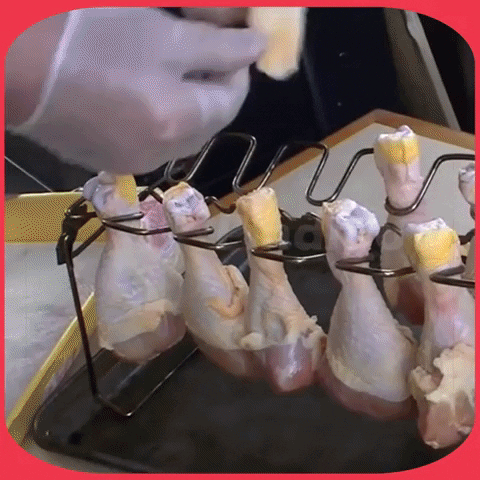 Features
Easy To Use:
Simply hang each piece on the frame and place it in the oven or on the grill.
14 Slots:
The gaps are the perfect size for any drumstick!
Folding Design:
The rack folds up and fits inside a drawer or shelf easily for storage
Versatile Pan
: The pan not only keeps juices from dripping on the coals or heat deflector but can also be used to cook vegetables in the chicken's juices!
High-Quality Stainless Steel:
Non-Chemical, non-toxic, dishwasher safe, and easy to clean with just a wipe of some warm water.
The rack makes a perfect gift for every BBQ lover and is an eye-catching way to cook 14 wings to perfection like never before!
Specifications
Material:
Stainless Steel
Rack Size:
33 x 12 x 12cm
Tray Size:
36.5 x 14.5 x 1.5cm (including handle 46 x 14.5 x 3cm)
Weight:
230g Rack, 300g Tray
Package Includes
1 x Rack Holder
1 x Tray (Optional)