LIMITED STOCK - SALE ENDS WHEN SUPPLIES SELL OUT

Revolutionary Remote Control & Fire Power With The All-Terrain Tank!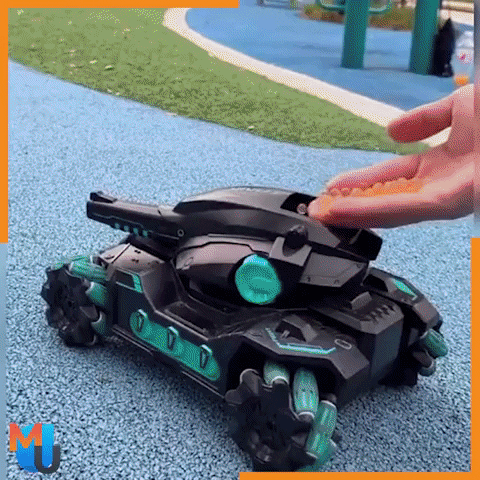 Made with superior quality, the All-Terrain RC Tank is a Child's dream come true, traversing through mud, dirt, or soil, it has a 360° real-time turret that first water bombs.
☑️ Best-Selling RC Toy Of 2020
☑️ Works In Mud, Sand & All-Terrains
☑️ High-Speed, Real Tread Driving
☑️ 360° Full Control Turret
☑️ Includes 1000x Water Bombs
☑️ Easy To Use For All Ages
Using a 2.4 GHz 2 channel proportional controller keeps you in constant real-time contact with your All-Terrain RC tank and allows your friends to play with their RC vehicles without the fear of crossing frequencies or loss of control.

Revolutionary new gesture-controls and traditional remote both included.

Safe and environmentally friendly, non-toxic, tasteless, and durable water bullets.


Recommended For Ages 3+
Specifications:
Material: Plastic
Size: 29*19*17cm(L*W*H)
Rotation: 360 degrees
Frequency: 2.4Ghz
Battery: Lithium-ion battery
Charging: USB charging
Package Includes:
1x Water Bomb Tank
1x Gesture Control
1x Remote Control
1x Lithium Battery
1x Water Bomb Package (1000 Pieces)
1x Gesture Control Instructions